As with scams and unsuccessful things, there is always a limit as to how long they can run for or how long they can be stomached...
And well, Soshi have been doing a few things here and there
(as well as being kicked out of a Major Concert)
...
CFs ~
They apparently filmed a
new
CF in last years Fashion, LOL. That Metallic look is so trashy and outdated, much like SNSD is... So perfect spokemodels then.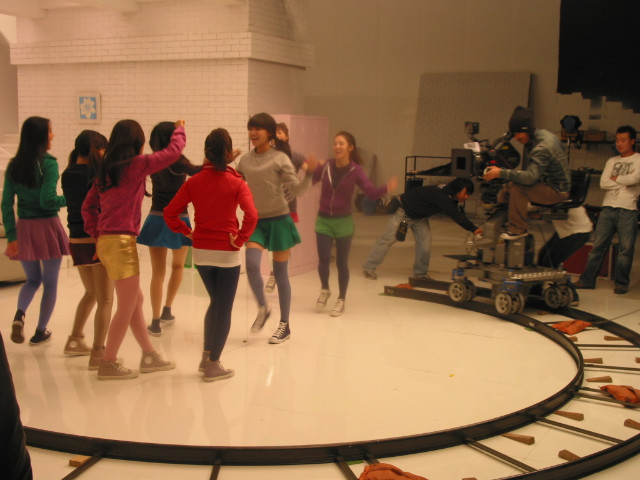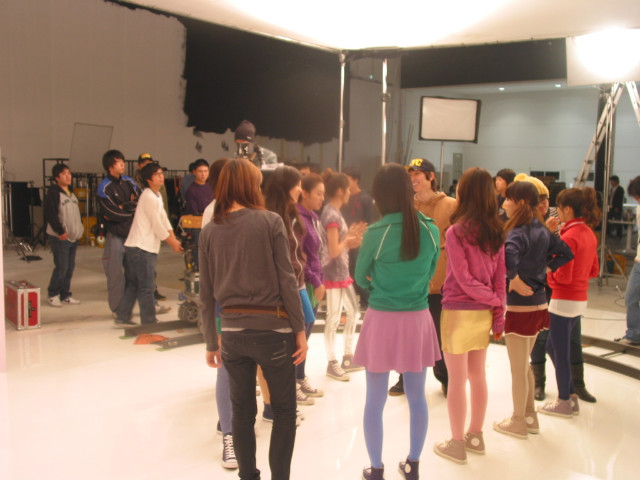 Looks wrong, ne?
SNSDs Yuri ~ is desperate for some man-action ~
Apparently since she is taking part in two so-called 'date-based' shows, little Miss Yuri, took time out on WheeSungs lap when he mentioned it was his favourite form of 'skinship'. Yeah, he looks like he is enjoying it (!)
On other news with shows that have SNSD members on them, "KKo KKo Tour Single Single" has apparently been
CANCELLED
, LOL. KBS Happy Sunday programs are relatively popular, and although this show has only had two rounds of matchmaking couplings, it's rumored to be cancelled. It's good that SNSDs Tiffany and Yuri had some exposure while it lasted, eh? LOL If they werent part of the reason it wasnt popular that is.
Another big joke of an Award has got to be SNSD "winning" Best female girl group of the year Award at the the 15th Korean Entertainment Award Ceremony. Dont know the show? Yeah, they apparently needed money, hence giving these girls the award, when another group obviously Kicked K-Pop girl group booty this entire year.
Behold the Power of 8!
And "Kissing You", really, again? COME ON.
Yeah I know the clothes are seriously, LOL. After LSM makes a fool of himself by publicly stating in an on-record interview that SNSD are in fact pedo-bait, they decide to cover them up completely? It's too late to try and cover up that mess, just save what's left of your reputation SM and drop these girls.
The funniest of the lot has to be the following "concert"...
Count them, yeah only 8! Even organisers pay little attention to them. Guess whose missing, it took us all a while to figure out who... LSMs neice Sunny.
I doubt this show will actually happen, considering the mess of MBC "Music Festa" earlier this year and the lack of professionalism in the poster, but if it does, good luck to them if they are actually allowed in the Stadium.
And to show how "authentic" this concert is, they even did a voting poll similar to what was done in Dream Concert...
The contenders?
Since when did Super Junior become an all girl group and SNSD become "Happy"? And on this "official" Chinese site, only DBSK got their name and picture right... the rest are all mismatched... O__o
Results so far from the Super Concert's "Official Website":
SNSD ahead by THAT much? LOLLLLL... they wish....
And unless MC Mong suddenly became a member of Jewelry, Taemin became part of Epik High, SS501 transformed into girl-duo Davinchi, FT Island changed their group name, and Typhoon suddenly went "Circus"... ummm... *shudders at the thought*
Actual results from Korean site (image credits to sj-market):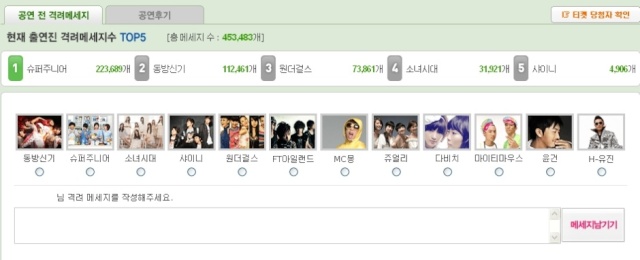 Yup.. SNSD is tailing behind Super Junior, DBSK, and Wonder Girls...
Such professionalism from a supposed "Super" Concert... tsk tsk tsk... international fans (especially ELF) are actually quite pissed with confusing poll pictures... they're worried that their votes are being "wasted" on "another" group *cough*SNSD*cough*... funny how in the Korean website, everything is fine...
It's on the 16th and being aired on MegaTv with guests including, DBSK, Wonder Girls, Super Junior - Happy , SHINee, FT Island, Jewelry, MC Mong, HanYoung, H-Eugene, Davichi, MightyMouth and an expired pedo-bait girl group known as "Girls Generation".
______________________________________
Thanks to
queenbee
for accumulating the info ;)
Last edited by Angel on Fri 14 Nov 2008, 4:24 pm; edited 3 times in total