International k-pop fans are now in a panic due to the recent happenings in Thailand.
Apparently the upcoming "SM Town Live 08 - Live in Bangkok" on the 29th of November 2008, might be put on hold due to the ongoing turmoil as evident in these news articles and photos taken from various news sources.
yahoo news
Anti government protesters in front of the departure terminal at Suvarnabhumi airport, Bangkok in the early hours of Wednesday Nov. 26, 2008. Outbound flights at Suvarnabhumi International Airport were temporarily suspended at 9 p.m. Tuesday, authorities said, shortly before hundreds of demonstrators — some masked and armed with metal rods — broke through police lines and spilled into the passenger terminal. Airport manager Serirat Prasutanon said airport authorities had tried to negotiate with the protesters 'but to no avail.' 'For the safety for passengers, we have to stop flights out of the airport temporarily until the situation returns to normal,' he said in a statement, adding that incoming flights were still operating. The anti government protesters are demanding the resignation of Thailand's Prime Minister, Somchai Wongsawat
Demonstrators seem very determined:
Riot police were called into the airport complex late Tuesday and squared off with protesters in and around the terminal.

"For the safety of all passengers, I have to stop all the flight operations and close all exits in the passenger terminal until the situation returns to normal," Sereerat Prasutanon, director of Suvarnabhumi airport, said.

"I'm very worried about the situation now," Sereerat said. "I think it's time that the army comes out and helps to take care of the situation."
If the situation is so seemingly serious, that they are even calling for the Army to intervene, it seems like a no-brainer whether the Concert should go ahead.
SM Town Thailand is said to be the last stop of a series of SM Town concerts, the last one of which was in Shanghai, China.
Last September, a press conference was supposed to have been held in Bangkok, attended by DBSK, Suju-Happy, SNSD, among others. But at the sudden announcement of the Emergency Royal Decree, one day prior to the artists arrival, it was immediately canceled and rescheduled to a day prior to the concert day itself, 28th of November 2008.
Organized by
Adamas World Co. Ltd.
, "SM Town Live 08 in Bangkok" is supposed to be bringing in 40 artists from SM Entertainment to Thailand for a one-night concert. With an impressive line up including: TVXQ, Super Junior, CSJH The Grace, Zhang Li Yin, and SHINee – the expected turnout at the Rajamangala Stadium is estimated to be around 40,000. *I purposely left our SNSD on the list*
But the question right now in everyone's mind is: "Will SM Town Bangkok push through?"
A lot of reports are now coming in, most especially in the SM Town Festival official thread in soompi… some fans are saying that the artists flights have been canceled… some are saying the press conference is canceled… while some are just waiting to see if the concert itself will push through as most will be flying in to Thailand by tomorrow evening. Because of all the speculations, a supposed Adamus representative posted this on the
official SM Town Thailand website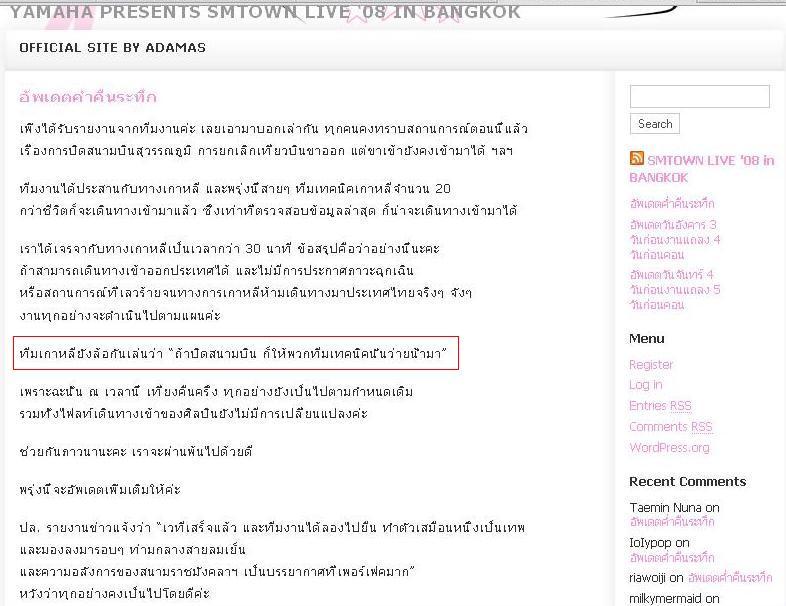 Summary: After the recent happenings in the Bangkok Airport, (Adamas) has been on the phone with an SME representative for half an hour to check on the situation from both sides. 20 SM Entertainment staff will be arriving tomorrow to Bangkok. Most of the details for the show have already been finalized, including stage décor. They have also reached an agreement that since the airport is still letting people in and out of the terminal, and there has been no announcement of an Emergency Royal Decree, the situation has died down and the concert will still go on schedule.
Such a waste of good stage décor if the event will be canceled. Priorities, people...
Also, notice the highlighted text in the red box… Apparently, the said SM Entertainment representative made a joking remark that
in the event the airport is shut down, they will simply have the SM staff swim their way to Bangkok
…
At a time when social and political turmoil is rocking the nation of their host country, SME has no right in making such comments. Not only is SM putting their artists' safety on the line, but the fans as well…
International fans are flying in from all across the globe to see the show and are now worried. Most of them are teenagers who will have their parents, sisters, or friends with them just to see their idols. A lot are expressing their worry that due to the protests, convincing their parents have now proven to be more difficult.
And curiously enough, SME just postponed their scheduled SM Global Audition this Sunday, 30th November… a day after the concert.
Perhaps they would like to leave the country earlier… just in case…
But, from their supposed conversation with Adamas, if they feel that the political situation is getting better, why cancel the audition? Heck, why not stay there for a week and have a vacation while they are at it?
Would you think its wise to push through with a concert while such things are occurring in a country?
Political turmoil that has been lasting for months now has driven the anti-government protesters to not only shoot at Pro-government rivals, but to threaten them with large knives and to set fire to Motorcycles...There have been 11 injuries noted, 8 of which are suffering from gun shot wounds and one is in critical condition, according to hospital staff.
The Government for the time being is staging a "wait and see" approach for these protesters, hoping that they get tired out from the protesting. Yes, ridiculous considering how determined these protesters are.
A word from the Anti-Government Protesters:
Organizers say the protest is a "final battle" to bring down the government.
http://news.bbc.co.uk/2/hi/asia-pacific/7747886.stm
If you're interested in finding out more about the conflict in Thailand, go
here.
These protests have been going on for about 6 months now. What we can gather form these pictures and news is that
The demonstrators are regarding this as a "Final Battle" and will not let this end without a fight.

They want as much media coverage as they possibly can to achieve their goal.

No-one is entirely clear on how far they will go or what else they have planned.

They are seriously organized.

We have members here in
STAND
planning to attend this concert, and for the safety of them we urge them to please reconsider whether to attend this concert, if this goes through.
Money has been spent and wasted on this event, but your lives are much more precious than this gig. And Lee Soo Man, your artists and your staff lives are precious too, even if,
"the Stage Decor is up already"...
NEWS UPDATE!!
NEWS LINK
NEWS LINK
Singapore Airlines, Air Asia, China Airlines, Eva Airlines (Taiwan), Tiger Airways
, and few more flights going to Bangkok have already canceled and offered refunds/rebookings to their customers..
Also, people have been advised not to wear
RED
or
YELLOW
as they might be mistaken for either pro- or anti- government... I guess Cassies would be the ones in a precarious situation here...
As of the moment, no cancellation for the concert has been announced by either SME or Adamas. They are still "waiting it out"...
LATEST DEVELOPMENTS:
SMTown Live in Bangkok is officially POSTPONED!

[공지] SMTOWN LIVE '08 IN BANGKOK 이 연기되었습니다.


안녕하세요.
S.M. Fanclub 담당자 입니다.

공연을 기다리셨을 많은 각국의 팬 여러분께
아쉬운 소식을 전하게 되어 죄송한 마음입니다.

오는 11월 29일(토) 태국에서 진행 예정이었던
< SMTOWN LIVE '08 IN BANGKOK > 이 항공기 결항으로
부득이하게 2009년 2월 7일(토) 로 연기되었습니다.

< SMTOWN LIVE '08 IN BANGKOK > 은 2월 7일(토)
더 좋은 모습으로 팬 여러분을 찾아 뵙도록 하겠습니다.

다시 한 번 팬 여러분의 양해를 부탁드립니다.
Rough Translation:

[News] SMTOWN LIVE'08 IN BANGKOK has been indefinitely postponed.

Hello.
This is a staff from S.M. Fanclub

Sorry for keeping fans of many countries waiting regarding updates on the show.

This Saturday, November 29, SMTOWN LIVE'08 IN BANGKOK that will be held in Thailand has been postponed to Saturday, February 7, 2009 due to canceled the flights.

....

Once again, we're asking for the fans understanding.

It has also been posted in the 12 plus website
here
As you might know, 12 plus is one of the official sponsors for the concert.
FINALLY!!
On a much more serious note, though we can now feel relieved that our idols and the fans will now be out of harms way, the political turmoil in Thailand is still ongoing, if not, taking a turn for the worse. We do hope everything gets resolved soon, and for our STAND members who are living in Thailand, please stay safe...
________________________________________________________________
Credits to Yahoo News, BBC news, thi.com, upi.com, Soompi
------------------
special thanks to
Bento Box
and
Angel
...
Last edited by queenbee on Thu 27 Nov 2008, 6:57 am; edited 8 times in total