From this
post
we gave you the info on who's who in the upcoming race for the Golden Disk Awards 2008. And yes, SNSD leader Kim Taeyeon is in the running for 3 major awards:
Digital Bonsang Award
YEPP Popularity Award
Hallyu Popularity Award
A list of attendees and no-shows were released yesterday:

CONFIRMED ATTENDEES:
Shinhwa(Junjin, Minwoo, Haesung) Jang Yoonjung, Taeyeon, Son Hooyoung, DBSK, WG, Nell, Rain, Shinee, F.T. Island, MC Mong, SGwanabe, Da vinci, Lee Hyunji, Moon Chaewon, Andrew Kim

NOT ATTENDING:
Big Bang, Hyori, Seo Taeji, Epik High, 2PM, Gummi, Kim Dongryul, Dynamic Duo, Park Jinyoung, Sung Shigyung, Alex, Younha

And it so happens that there is an unwritten rule in the GDA that artists who are nominated but are not attending will NOT win an award... so I am guessing in the event that our favorite rat faced ajummah does win ANYTHING (which I still highly doubt), it will be based on a technicality... tsk tsk..
So far, GDA 2008 is now ongoing and we will keep you guys up to date on stuff that is happening.
Red carpet photos: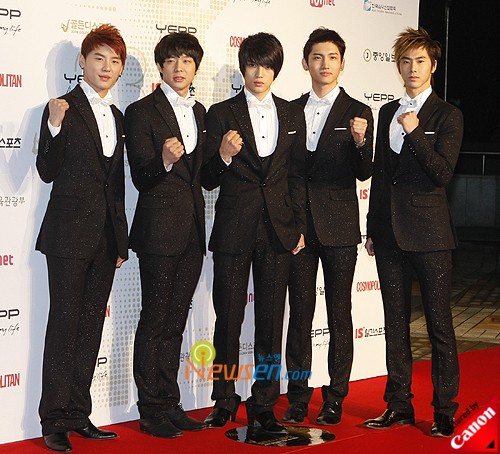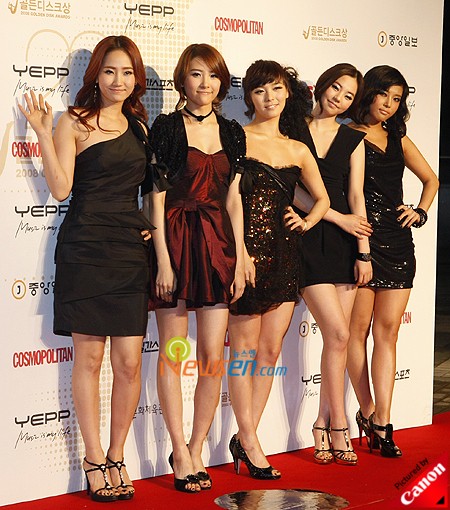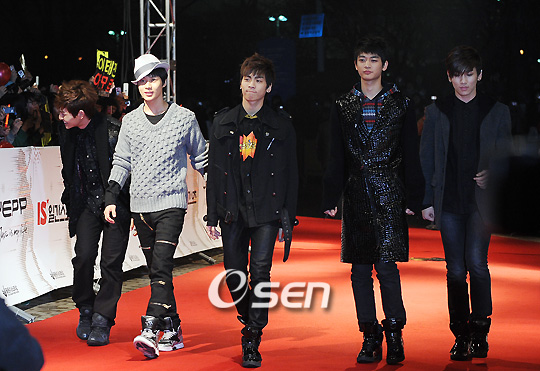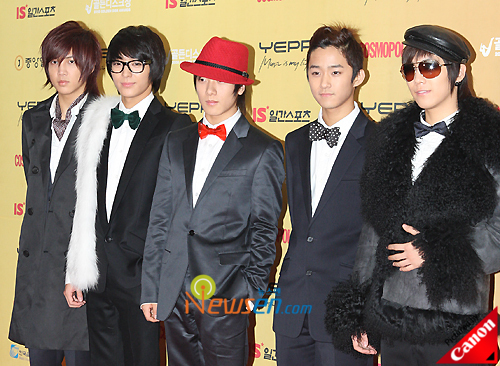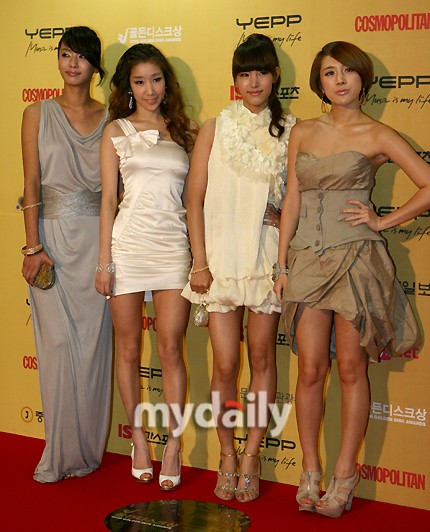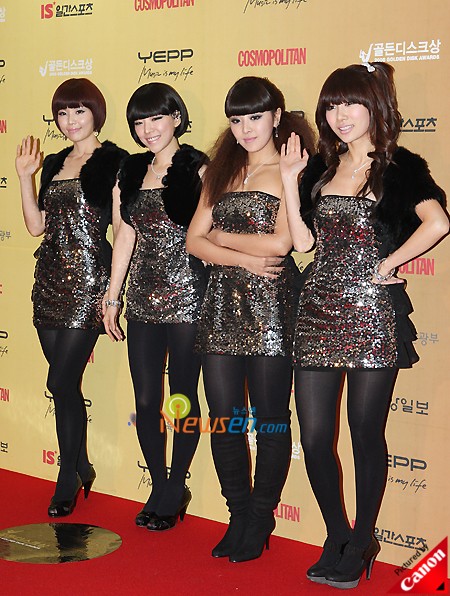 And yes, the one the stylist hates the most: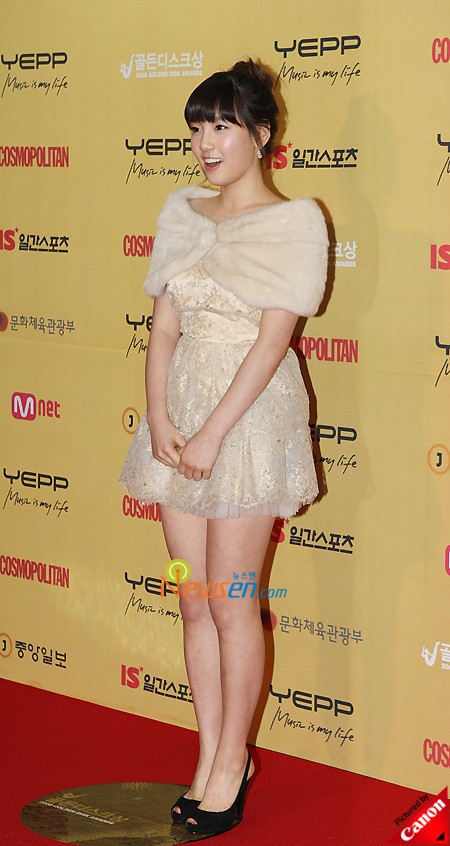 Black shoes FTW~ XDDD
Awards given out so far:
Digital Newcomer Award:
Davichi
Disk Newcomer Award:Shinee
(Onew cried T__T)
Digital Bonsang Awards
went out to:
Wonder Girls
Jewelry
Brown Eyed Girls
MC Mong
From those four winners, a Digital Daesang Award will be chosen at the end of the night.
I guess we can scratch that one out of the Sissified's list of expectations...
And a
Producer of the Year Award
was given out to
Lee Soo Man
who was gracious enough to accept his award with a speech from Times Square in the US... duh... no comment...
Disk Bonsang
winners:
DBSK
Kim Dong Ryul
SG Wannabe
Rain
Brown Eyes
Shinhwa

There are 6 Disk Bonsang winners, and one will be chosen for Disk Daesang.
And no, Taeyeon is not in the running for this.. she already lost her chance in Digital Bonsang...
Seems technicality won:
YEPP Disk Popularity AwardSun Ho Young
DBSK
YEPP Digital Popularity AwardFT Island
Taeyeon
Last I checked, she was behind Big Bang, FT Island, DBSK, and Son Ho Young... will wonders never cease? O__O
First LSM gets an award (considering he was out of Korea) and now Teayeon wins Popularity Award when polls clearly show DBSK are leading along with FT Island, Son Ho Young and Big Bang.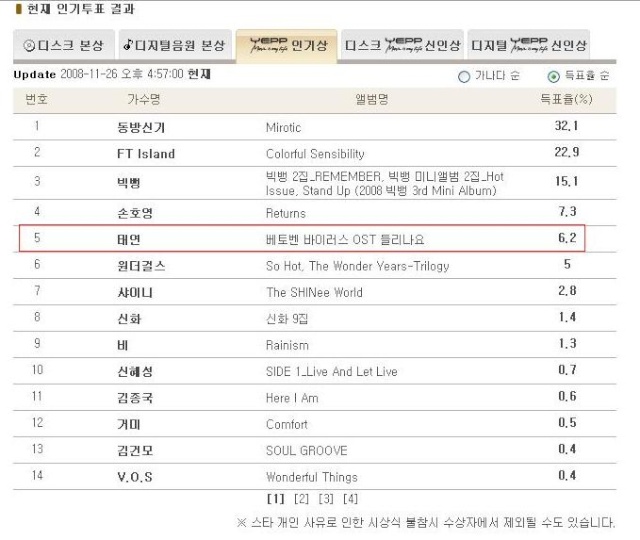 This was just a little over two weeks ago.. I doubt Taeyeon made a speedy overtake on all four in such short notice...
And if Big Bang DID in fact show up, they would have taken this home alongside FT Island... NOT Taeyeon... So why oh why then, did LSM manage to receive an award when he wasn't even in the COUNTRY, yet Big Bang, who is in the same CITY as the GDA, can't receive theirs?
Delusionals better be thankful for this small favor bestowed on their rat faced leader and not actually gloat about it...
LINK FOR FULL LIST OF WINNERS
Last edited by queenbee on Wed 10 Dec 2008, 8:42 am; edited 12 times in total