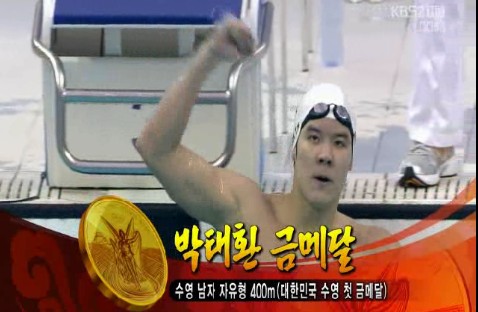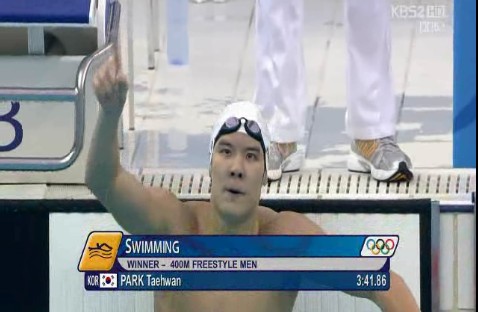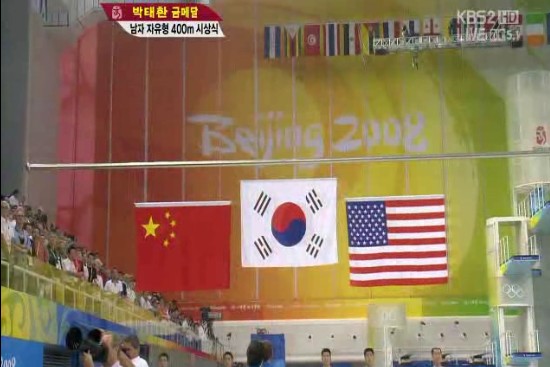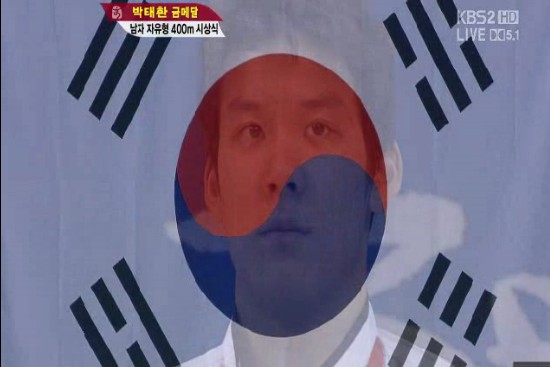 When Park Tae Hwan won the Gold medal for 400m Freestyle ...
They apparently played SNSD's song on the back ground!
I bet the friendship of Park Tae Hwan and Wondergirls just ended right there!
Is it maybe cuz SunYe rejected him multiple times ...
now he is going backstab on her?
(referring to many of the dating rumors between them)
Wonder what song he made them play?
Kissing you, oh my love?
Yeah exactly! Nine of them singing that for him ..
his testosterone level sure shoots to the sky!
Edit: Turns out they played "Girls' Generation", even worse!
I never wanted to see him around WG anyways -throws confetti-
---------------------------------------------------------------------------------------------------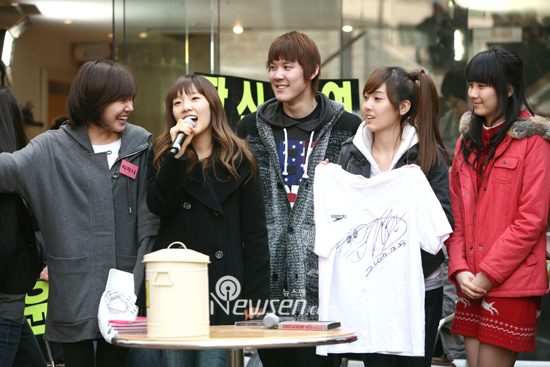 Translation credit: Maki
I am completely speechless....the entire international community and world athletes had to bear the excruciating "Girl's Generation" song by SNSD, which wafted through Beijing's new Water Cube aquatics center. Why does Korea have to go through this embarrassment?
Korea's "Water Boy" Olympic swimmer Park Tae Hwan won his first gold medal in the Men's 400 meter free-style on August 10, recording a time of 3 minutes and 41.36 seconds.
After Park Tae Hwan finished his race, the song "Girl's Generation" by SNSD echoed throughout the expansive Water Cube, attracting the attention of the bystanders. (People probably gave him queer looks, no doubt.) At the Beijing Olympics, when an athlete wins a gold medal, they turn on the athlete's favorite song as requested. I am truly disappointed in this Olympian - his shameful act casts a pallor upon his glory.
Netizens are already in an uproar because Park Tae Hwan is known to be very close to the members of Wonder Girls. There were even rumors last year that WG's leader Sun Ye was secretly dating Park Tae Hwan.
Source: Newsen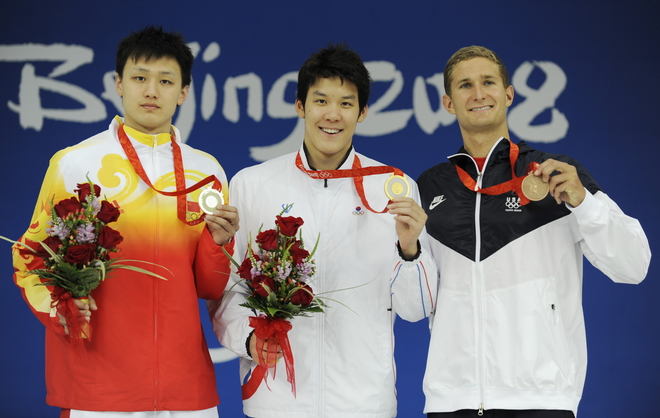 ___________________________________________________________________________________
Unabridged & uncensored commentary by Maki:
What the f*** was he thinking? Everyone in the arena probably thought he was gay or something. Personally, I like the guy very much - he is truly one of Korea's shining athletes. But why in the world?
I'm guessing Lee Soo Man paid him off but that's not an excuse!
There's a big difference when SNSD's 9 pre-pubic vocals come out of the stereo - making TaeHwan look like a pervert - where as Wonder Girls' " I'm so Hot Hot ~" playing would justify and memorialize his HOTNESS. How can I ever forgive his perversity and desecration of the Olympic Games?
He better win another gold and play some real music...nevertheless,
congratulations Park Tae Hwan!
Credit: jakjak77
(honestly, I don't think you can hear it because the Korea commentators are screaming too loudly)
Here's a better clip. You can hear Taeyeon screaming at around 30 sec. (This vid may not last long because it has NBC copyrights.)
Credit: thicindy
______________________________________________
Source:
http://tvzonebbs1.media.daum.net/griffin/do/photophoto/read?bbsId=A000004&articleId=336602&pageIndex=1&searchKey=&searchValue=
Last edited by Tbell (Sane) on Sat 09 Aug 2008, 11:46 pm; edited 9 times in total