The recent fiasco that happened in SM Town Concert has again brought attention to us antis. Initial fan accounts have mentioned that all other fan clubs have cheered for them and that no boycott has occurred, as opposed to what was initially discussed
HERE
and
HERE
.
But we STAND-ers knew it was too good to be true, as all those initial fan accounts came from, lo and behold, the Sushified community. So after extensive research and study, we have proven that a boycott has occurred and the Black Sea has again showed its power, both of which STAND has
undeniable proof
HERE
,
HERE
and
HERE
.
But of course, we wouldn't call them rollers "Delusionfuls" if they didn't strike back on our evidences, right?
Delusionfuls Defense #1
:
Jamsil Stadium has a capacity of 50,000 and attendees were 40,000.. it will not be full because of the huge venue, so having an attendance of 40,000 is already more than enough
. (NOTE: source of the figure 40,000 came from
HERE
My answer:
Jamsil Stadium is the same stadium used in Dream Concert. Capacity of the venue is for a total of 70,000. But since both concerts did not use the entire venue for the seatings, let us ASSUME that it is for 50,000…
Dream Concert Cass Seating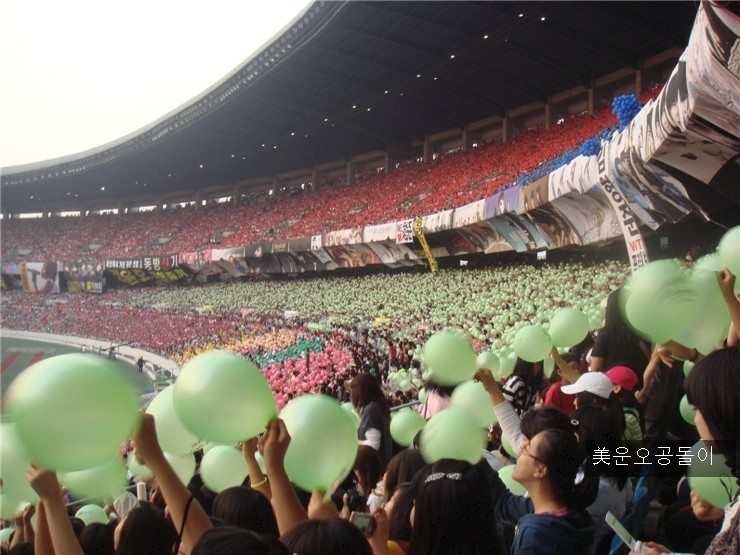 SMTown Concert Cass Seating
If I remember correctly, Cassiopeia occupied almost 20 blocks during DC. I know for a fact that ELF had 12. But seeing the number of vacant seats on the upper stands for SM Town - considering that they are for free - tells a lot.
50,000 is a small number for Cass+ELF. Super Junior sold out their first concert in a matter of minutes. That's 12,000 tickets per show. There were three concert dates. ALL SOLD OUT. I wonder if Delusionfuls can do math?
And pardon me for asking, but is the 40,000 all
paid
tickets? Heck, is 40,000 even an accurate number for the attendees?
Delusionfuls Defense #2:
It was still rehearsals which is why the seats were not yet full, as people were still coming in.
My answer:
The pictures of DBSK in blue 'uniforms' was during their "Hug" performance.
And this video also clearly shows that this was
NOT
during rehearsal:
You an clearly see the nearly empty stands behind Eunhyuk and Junsu.
Delusionfuls Defense #3:
Fans were allowed to follow/run after their idols during the show, and since it was a big stage/arena, most of the people were not in their seats.
My answer:
SMTown concert is NOT a free show not unlike Dream Concert. People need to pay to get in. Those who are on the grounds have more expensive tickets, and are the ones free to run after their idols. Those who were on the stands have cheaper tickets and are therefore not allowed to go down to the grounds. Event Management 101.
Speaking of which, try comparing the fans following Eunhyuk to the fans of Shitdae pushing each other just to be near SNSD...
Such enthusiastic Sushi rollers… *insert sarcasm here*
Delusionfuls Defense #4
:
Seo Taiji's concert was the same day as SMTown Concert.
My answer:
Thank you
yudit
for reminding me of this one. Seo Taiji is one of Korea's very own music legend, that I can say for sure. But I am also pretty sure Seo Taiji's music is faaar different from DBSK's.
Of course people will lay the blame on him. He is the reason why, during DC, ELF would rather stay outside Jamsil Stadium instead of just going home because there were no more seats left inside the venue. Seo Taiji is the reason why, during DC, thousands of ELFs sat outside in the cold singing along to music they can only hear and not see. Yeah, right... why don't we blame Seo Taiji for global warming, too, while we are at it...
FINALLY...
As for the whole, Cass and ELF cheering for SNSD, I would just like to quote Mama Delusionful herself from the Sissified thread in soompi:

… and I was like wow it really doesn't matter if they didn't cheer loud enough for our girls, as long as the girls had fun performing … I'm tired of hearing all this BS about lack of support from here and there, don't expect everyone to love SNSD like we do…
Ah yes… the
'wise'
words of one Delusionful to another… then I guess what got her BS-ing is the fact that NO ONE did cheer for
'her'
girls… don't worry Mama D… you won't be expecting any love from us anytime soon.
Last edited by queenbee on Sun 17 Aug 2008, 2:13 am; edited 7 times in total (Reason for editing : adding Seo Taiji defense)