SM had always used this underhanded tactic of letting his new artists ride on to a more popular sunbae. Set example: DBSK with Boa… Super Junior with DBSK… Jang Ri In with DBSK and Super Junior… and of course, SNSD.
But while DBSK, Super Junior, and Jang Ri In have already moved on to successful grounds and have performed well enough on their own, SNSD still has not stopped clinging to their sunbaes' coat tails. So for the record, let us list them down, shall we?
1. CFs – Haptic phone with DBSK and Sunkist with Super Junior
2. MV guestings – Super Junior's 'U', Marry U, Yoriwang, and Donghae guest starring in
SNSD's Kissing You MV
3. DJ sets – Chin chin radio with Kangin and Taeyon, Chunji radio with Sungmin and
Sooyoung but was later replaced with LSM's niece, Sunny
As a fan of k-pop music, I have nothing against collaborations. Show Me Your Love opened new doors for Super Junior. Timeless became an international hit for Jang Ri In. And SNSD… well, Kissing You became their first, and up until to date, their ONLY hit song… which makes one wonder… if Donghae wasn't there in the MV, would the song have been THAT popular?
And the so called scandals… let us not forget to mention the scandals. Anyone notice why it won't die down? The Tae-Su rumour… the Jessica-every-other-boy-in-SM rumour… and now, a clamor for a so-called Yoo-Fany romance…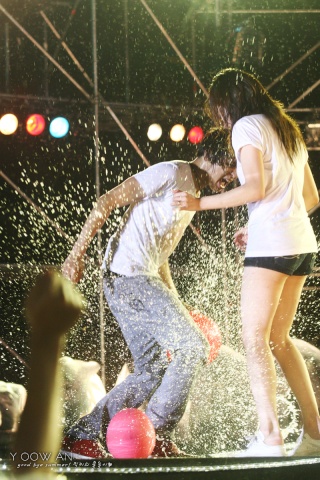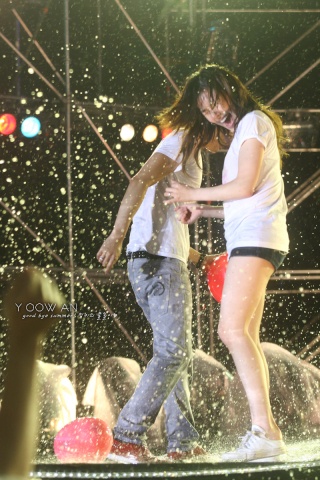 Yeah, Micky… show Tardfany how much you love her…
*insert sarcasm here*
Does it ALWAYS have to be like this? SNSD name to be linked to a big artist? They have already debuted for more than a year now, and they still need to attach themselves to others just so they can be recognized. Look at what happened to Park Tae Hwan's win in the Olympics. You can read more about that
HERE
. The guy may have had bad taste in music, but a gold medal in the Olympics is a GOLD MEDAL in the OLYMPICS. And because of
HIS
win, which resulted in Girls Generation being played on the venue speakers, Insanes are now claiming SNSD as international stars. Reality check, Delusionfuls, HE won. Shitdaes didn't. Their song was played... that was it. No awards for Shitdaes... NOTHING...
With the recently concluded SMTown Concert, Insanes are now clamoring for a new collaboration. All because of this picture: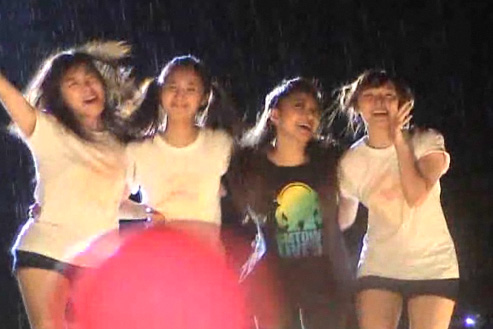 Considered to be the "in thing" right now, BOSHI, which stands for BoA – Soshi,
I assume
, was the topic of discussion for a while in the Sissified thread in Soompi. Such statements like
"BoShi is total love!"
or
"the famous BoShi moment"
is now all over their thread. Someone even had to make a siggy to commemorate the moment.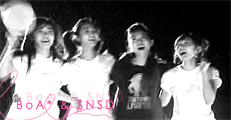 Now if only they saw the ENTIRE video of that supposed BoShi moment. Would they still feel the same way? Probably not, as they are not called
Delusionful
s for nothing… But for the sake of rationality and realism:
Notice how in the beginning of the video, BoA is on her own at the side of the stage, working up the fans… Then a Shitdae comes in (Jessica)... followed by another (Yuri)… and another (Tiffany)… Jessica made sure she went in front of BoA so the latter can see her. Yuri and Fany join in for a photo-op. At 0:20, you can see BoA discretely turn away from them... and just when she thought she was finally free, Tiffany launches herself on BoA's face with a pink
condom
balloon. BoA distracts her by pointing at the crowd, and as soon as Tardfany turned, BoA makes a hasty getaway (0:27 – 0:29).
Anyone see a BoShi love moment?
BoA is a talented young lady. And she recognizes people who have true talent. Too bad SNSD don't have any. But of course, leave it to our lovely Delusionfuls to think otherwise.
And... Mama D strikes again!

"COUGH. SM IF YOU WANT TO PERFECT THE SECOND ALBUM, THEN YOU SHOULD HAVE A BOSHI TRACK. COUGH"

Did she just say that without BoA, Shitdae's album won't be "perfect"?
Last edited by queenbee on Tue 19 Aug 2008, 8:47 am; edited 1 time in total