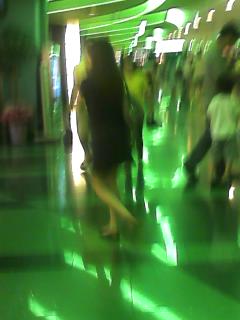 So they are really busy that they even quit their jobs to concentrate on their album, which is now rumored to be only a single that is pushed back yet another time! Just when another one is sitting bored on her ass .. begging people to play with her on her blog .. Tardfanny who quit her job to get super busy watching "Gossip Girls" and appear at the soshified chatbox, there you have Jessica who was seen going to a bookstore with that look! yeah, all dressed up like that, attention seeking much? She might as well .. have held up the SNSD banner over her head!
Jessica was seen being on the phone while signing autographs for her fans, to mark yet another disrespectful act from them .. in case her UFO messages and throwing fan letters in the trash was not enough, not to mention her constipated look in LA for Hollywood Bowl anytime fans approached her - being on the phone while signing sure is the greatest one for the wrap up!

and we were really curious to know what brought iron-Jaw to the bookstore!
Last time that she was seen in bed with a book, her fans were so proud ...
when they found out she was reading Chick Lit in English!
Yeah and it got to be English since the camera was rolling ..
Jessica sure has impressed us all with her English on the SM audition ad!
Anyway, the He pictures were posted by someone who claimed not to be an SNSD fan .. and didn't know her .. but stalked her around since he thought she was pretty! However, no one knows how he later found out who this mysterious woman is to post the pictures all over the websites?! We all are familiar with the SNSD usual lines "I am not a fan, but ..." apparently they-SNSD fans!- share the line globally.
Here are a few Anti messages on the Daum's Message board:
(Translation Credit: Maki)
- "Why is she selling her face in pulic? hehehe Shouldn't she be wearing a hat or sunglasses? Does she really want to show off her face?"
- "Jessica doesn't look all that great in person....she reeks of affectation"
(another word for affectation is phoniness, fakeness)
- Someone called her literally a b*tch!
- "I want to have the courage she has." (She really has the courage to go out with that face...haha)
- 제시카 저희 학교 kkfs 선배였는데 데뷔 전 쌩얼 매일 봤던 사 람입니다 결론= 지금 이쁜거 성형+ 화장빨 입니다. 게다가 주근 깨 같은거 엄청 많았 어요 피부 더러웠다 이거죠 ps 제시카 동 생 크리스탈이 훨 예 뻐요
Jessica was an alumni at my school kkfs and I'm the person that saw her face without makeup before her debut everyday = Jessica's beauty now is the plastic surgery + makeup. She also had a lot of freckles and her skin was dirty.
PS. Jessica's younger sister, Crystal, is prettier.
Source:
http://tvzonebbs4.media.daum.net/griffin/do/star_photo/read?bbsId=A000010&articleId=237867&pageIndex=1&searchKey=&searchValue=
Last edited by Tbell (Sane) on Wed 20 Aug 2008, 12:48 am; edited 3 times in total