Of Mini Skirts and Lollipops
When does cute imagery lean into downright nasty?
A previous article from Newsen mentioned of how k-pop industry is now leaning into the sexy imagery when it comes to its women entertainers. There has often been a conflict into what is more popular, the "cute virgin" image or the "sexy vixen" image. Usually as these female artists mature, so does their femininity, and they evolve in to a more womanly image where they are more in touch with their sexuality. This topic is not actually limited into Korean entertainment industry alone. Such Western entertainers like Mariah Carey and Britney Spears have also begun their careers with their cute, bubbly imagery which they have later shed into a more mature and sexy look.
Now, what if stars maintain a cute and bubbly persona, but at the same time, flaunt their sexuality as a way of gaining fan interest and media attention? Could they still be included under the category of "innocent and cute" or "sexy and mature"? And if it is a mix, wouldn't that be already considered as vulgar and downright offensive? Not exactly a good role model for children and young teenagers… and certainly considered fair game for perverted adults and pedophiles.
SNSD (Seo Nyo Shi Dae) or Girls Generation (Hangul: 소녀시대) was marketed by SM Entertainment as an "innocent" and "bubbly" girl group, filling in the niche 'cute girl group' market left alone without a successor. Their group name itself implies how they would like to represent the new generation of girls in today's society. Their debut song, titled "Into the New World", depicted women empowerment and girl power at its finest… BUT… how disturbing would it be for a young girl to see an idol… a role model… the so called epitome of the new age girl… dancing like this…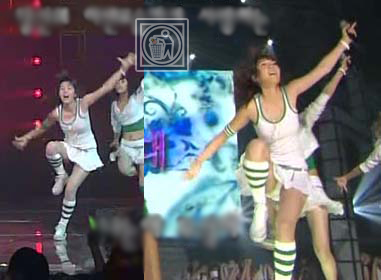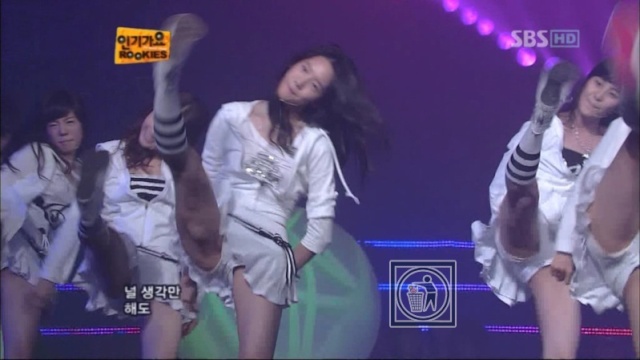 It only gets worse…

… and downright nasty…
Yes… that IS Yoona's
panties
shorts she is flashing for everyone…
Forget the fact that they are wearing 'safety undergarments' – Delusionfuls call it 'shorts'… I prefer to call it 'grandma panties'… long enough to cover your butt cheek, but short enough not to be seen while wearing your MICRO-mini skirts… but for the sake of diplomacy, I'll call it 'safety underwear'… for now – the mere fact that they are wearing skirts while twirling about, doing jumps, and high kicks (of all things!) is already telling the world, "Yeah… we're not really innocent… see my ass?"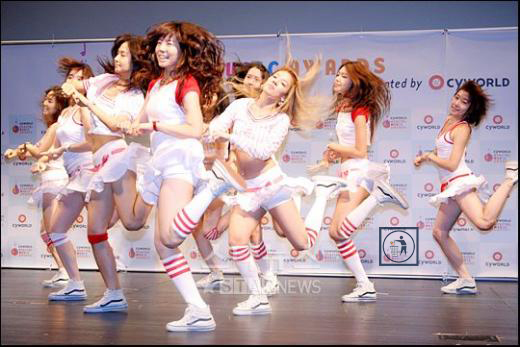 They are dancing to the same song which is supposed to depict women empowerment in society. So why does it have to include short skirts, bare midriffs, high kicks, and panty flashing? Isn't that just showing the same backward thinking of women being "sex objects" and being used for mere "media exploitation"?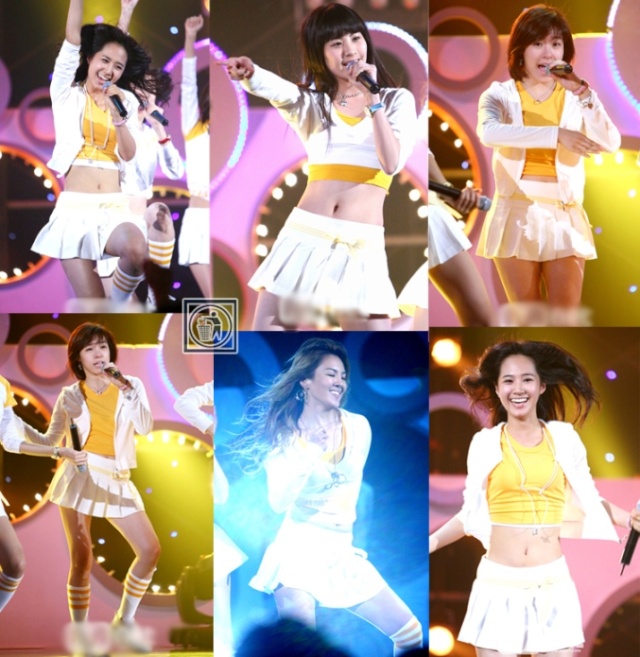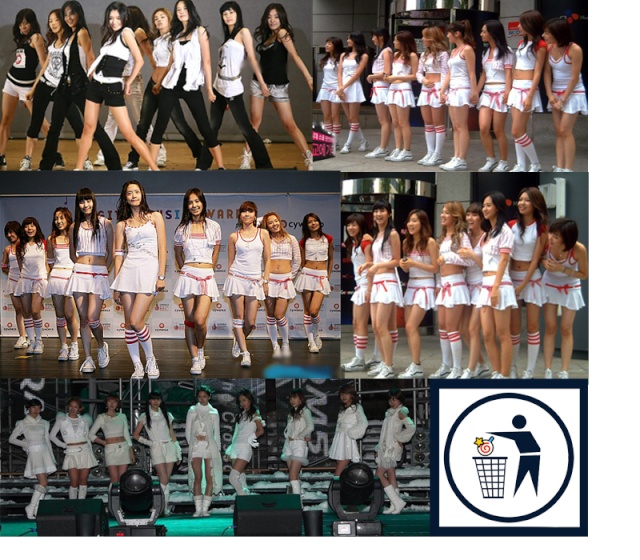 If they are going to dance to it like that, they should, at least, have the decency to not use the terms "new age girl", "girls generation" or "into the new world" as propaganda. It gives a negative portrayal to girls or women of today's generation who are actually striving to show their excellence and skills to be at par with their male counterparts in society. Bear in mind also, as a whole their name implies that they are not only representatives of the "Girls Generation" but also role models to the younger female generation. Their name in Korean also represents the "Sonyeo", those girls that are of marriageable age. What mother in her right mind would want a woman dancing provocatively to songs that are meant to represent female empowerment or "girl power" for their son?
Now, if there is one song that is surely to have taken parodied lyrics to a whole new level, it must be "Girls Generation".
When I first saw the translation, I thought to myself,
"This cannot be the actual lyrics? It's downright disturbing and weird, to say the least!"
Why? First of all, the whole song does not make sense. Second, who the heck thought of having the title "소녀시대", but the lyrics would be talking about a selfish "grabber" stealing a kiss from someone who is "young"?
Now before Delusionfuls again clamor
a
–
"It's not SNSDs fault! It's the songwriter/producer/manager/PD/scriptwriter/cleaning lady's fault!!"
– Yes, yes, I know that the song is written and produced by someone else other than SNSD. But the mere fact that the song was given
that
title and was made to be sung by
them
also reflects the imagery that the song had wanted to portray regarding 소녀시대 singing "소녀시대". So for the sake of rationalization and sensible thinking, this song should NOT be labeled as a girls' generation song for the following reasons:
1. This song has all sorts of connotations written all over it, none of them good.
"Don't make fun of me because I'm young…I couldn't talk because I was shy"
– This after the "selfish grabber" kissed her, much to her shock and nervousness. At the beginning of the song, the suggestion was, someone older than her, stole a kiss from her. So why do they seem to be happy about it on the MV? Even Tardfany's lame acting of surprise and shock did not help, because it seems the rest of the girls were happy for her. Not to mention the fact that Jessica/Taeyeon is all smiles, while she decides whether she should laugh or get mad after the guy "forces" himself on her is, in a word, wrong.
2. And then the never ending chorus line of
"어리다고 놀리지 말아요 …"
They better be talking of being too young for an oppa rather than an Ajoshi… because the MV again screams pedo-bait for anyone who'd care to notice the outfits they were wearing and the acts they were pulling in that song… and yes, the whole concept of the MV being a photo shoot is also downright disturbing. Check out Soo Not Young's solo pose…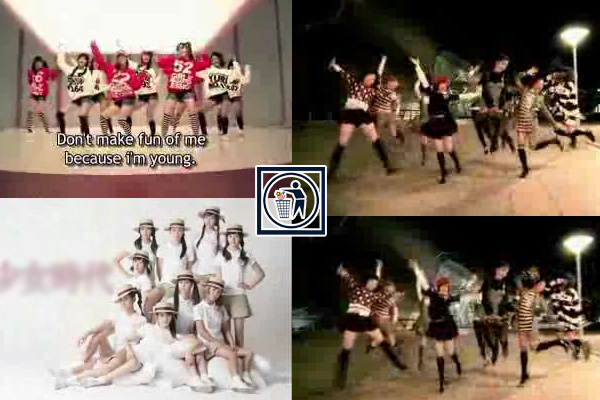 3.
"Even your small flaws seem to move me… I look like a fool but I am still unsure… I'm going to follow my heart"
– and this relates to the entire song how??? They actually consider his "selfishness" (in grabbing her first kiss) as a SMALL flaw, that even if she looks like a fool for being unsure about her feelings (after all, she is still young), she'll still follow her heart… This is actually the only part of the song where a hint of "love" is mentioned. If you give up listening by the second chorus you wouldn't even realize that this song was a vague reference to a love song. Because the rest of it is just screaming
"That man kissed me! I don't know what to do! I'm still young! I'm so shy! Don't make fun of me just because I can't express myself well… its okay because it's just words…"
– I think the bridge just got added in last minute so people won't think the song to be so too overtly offensive.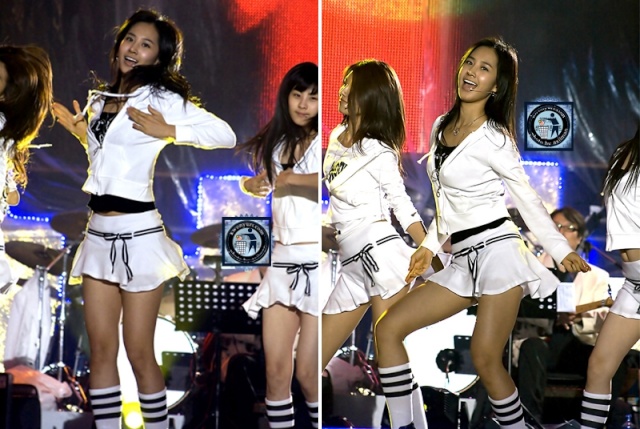 And as if the negative imagery wasn't enough for ITNW and GG, their last single, "Kissing You", was even more exploitative. A bunch of adults, almost in their 20's, acting like 10-year-olds by waving lollipops and dancing/riding atop carousels… pedo bait anyone? The song gives the assumption of innocent little girls playing around and hoping to get the attention of a boy. The lyrics are about a girl's dream to be with the boy she likes. But the video shows 9 fully grown women, waving lollipops to portray their supposed cuteness and innocence, but at the same time wearing the shortest of shorts and mini-est of skirts, while bending over once or twice.
They could have gone for the short shorts and miniskirts. It's the lollipops I don't get. As usual it's another blatant attempt of theirs to act like 10-year-olds but instead, ended up looking as if they are clueless, insipid little tarts whose only objection in life is to act cute, regardless of talent.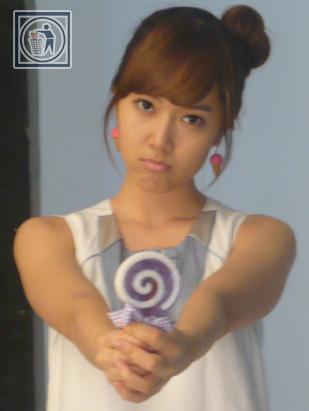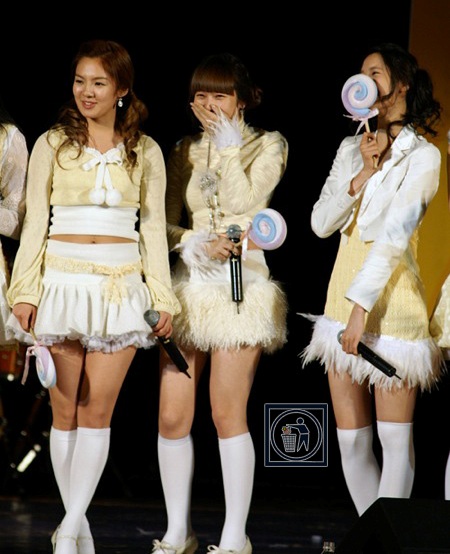 Now as if their music and MVs were not enough, SNSD has gone to an even lower level by taking their pictorial concept in "Girls Generation" MV to a much more disconcerting clientele.
For those who are not familiar with Star Photo (Hangul: 스타화보), it is basically a site where a set of pictures is released by female artists for mobile phones for pervy old men and boys alike. Originally this kind of thing was done for… you guessed it… men's magazines. Where the girls are… well... "inappropriately" dressed, or their lack of it. Nowadays, they stick instead with being super-provocative and these pictures are sent to mobile phones for a price.
You can view the website
HERE
Set example would be Gwak Hyun Hwa's Star Photo spread and seriously, ChaeYeon's is also quite provocative (and it banked a heck of a lot of money). See pictures
HERE
Who would have thought that SM's "innocent", "cute", and "virgin-like" girl group would be posing for Star Photos and would be in the same league as Hyun Hwa and Chae Yeon?
See for yourself…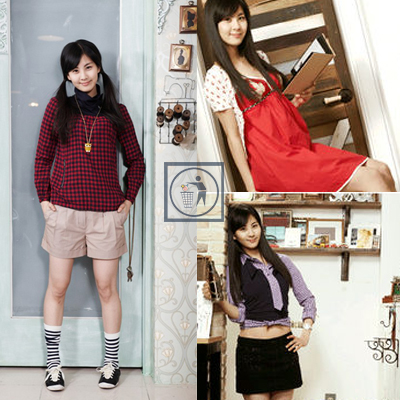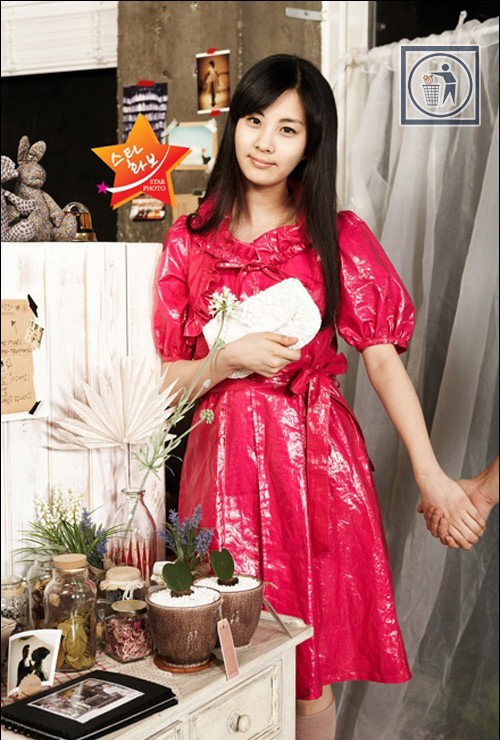 Now I wonder who the magnae is holding hands with? The hand is definitely not any of her "sisters".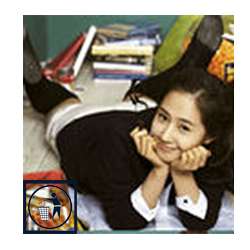 Yuri with her legs spread open while wearing a skirt...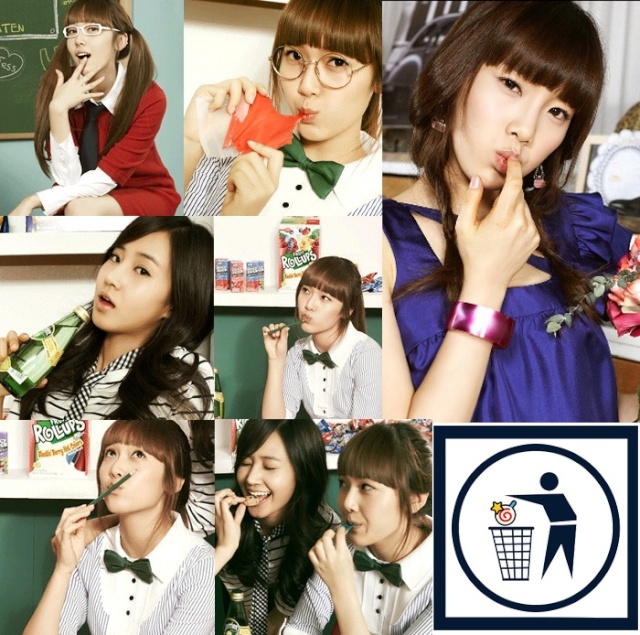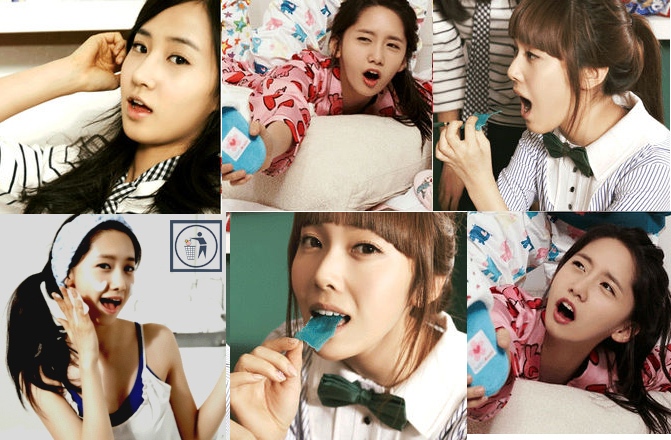 When has a simple smile never been enough?
Soo Not Young is proving that she is mature and can take on the shortest of shorts and poutiest of pouts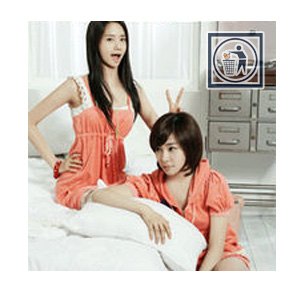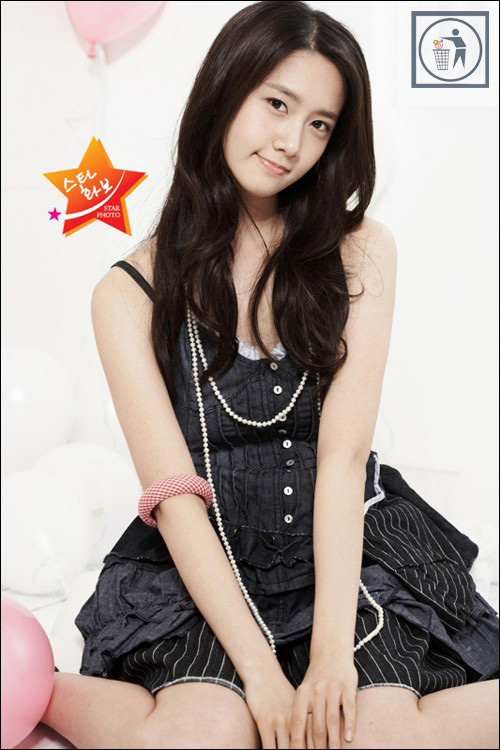 And for those who have yet to see what Tiffany was up to…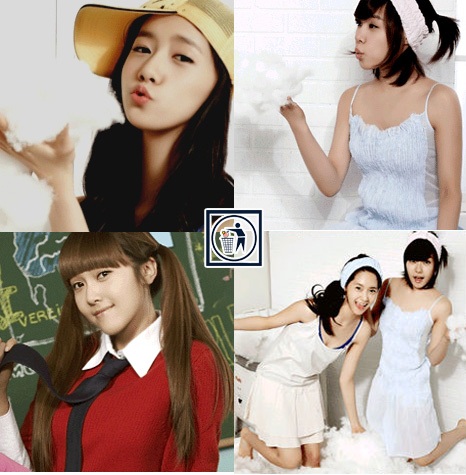 Now, could this portrayal of "cute and innocent" still be considered appropriate for a group who carries the name of "Girls Generation"?
The imagery portrayed by these nine girls in 소녀시대 actually degrade the name of "Girls Generation" by acting and playing on a man's most basic instinct… Sex.
Admittedly, and unfortunately, sex sells in the entertainment industry. Lee Hyori is, at present, one of South Korea's top entertainers. She knows she's sexy, her imagery is cut out to be sexy, so is her concept. Wonder Girls never laid claim to having an innocent and cute concept… nor have they gone all out sexy like Hyori… Why? Because they
(and their management)
know their limitations… So Hee is only 17 (Korean age) so it's only rightfully so that she be shy and awkward at times. SunYe is the same age as most of the girls in SNSD. She knows WG's concept is somewhat sexy, but she brings class and style to it
(you can actually count the number of times the girl would wear shorts or skirts in their performances – always with the long pants, that one)
. So how come SNSD's Tiffany, who is one of the oldest in the group of "cuteness and innocence", is always quite adamant on bringing her skirt up, taking inches off of it and making sure she flaunts that she has the shortest out of all nine of them? And how come SNSD's magnae is always the one with the bare midriffs??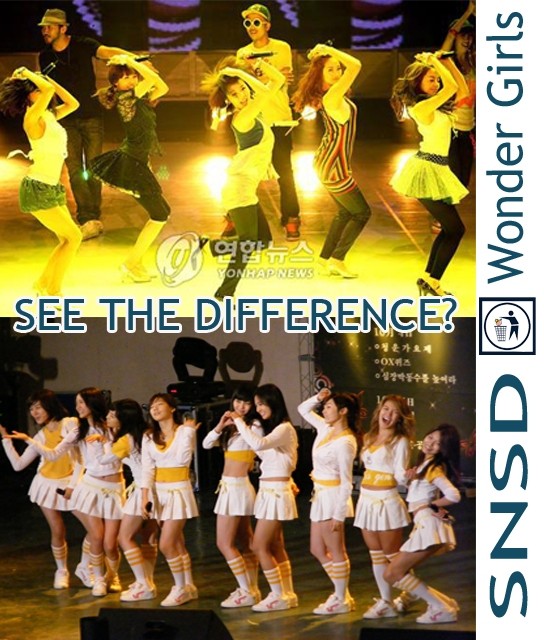 Such contrast… one is doing a sexy dance but is decently, but still somewhat provocatively dressed. While the other is trying hard to be cute amidst the exposed flesh and slutty poses.
SNSD's acts are downright misleading for someone who proclaims they are "Girls Generation" with a "cute, fresh, and innocent" concept. Their portrayal of "innocent and cute" leads to insinuations of pedophilia and perversity, definitely not how girls of this generation should be represented. Would South Korean Girls want to be represented by this collection of girls who hide behind a false "virgin" label and express their sexuality to the world in a vulgar and lewd fashion? Why should young women of the 21st Century see their so-called "representatives" continuously used as sex objects? Have we, as women, not reached a more respectable placement in society? Should we still be seen as secondary to men and their "tools" of pleasure. The mere fact that such a company of SM's stature that holds a respectable spot as one of Asia's leading Entertainment companies having a group like that debut is grotesque and insulting. Self-respect comes cheap these days apparently and so does good representation. It's sad how some women these days would rather be represented by Lee HyoRi, who openly flaunts her sexuality without shame while still holding her own in a "Man's World". At least her image is not deceiving and derogatory to women, she knows herself and has, to an extent, retained her self-respect. "Girls Generation" is an insult to girls and to the women that fought for a better and more respectable standpoint in present society. SM should be shamed publicly for ever debuting such a girl group and degrading women in this day and age.
Should this kind of group be allowed in the Korean entertainment industry being looked up to by young girls and being objectified by young boys and older men?
From their so-called leader to the attention-grabbing Tiffany to the almost naked magnae, these girls give k-pop and music a bad reputation. And this from their image alone. Their attitudes and their acts on variety shows and TV appearances is a whole new chapter which we will later again expose for the benefit of those who are still deluded by the insanity that is SNSD.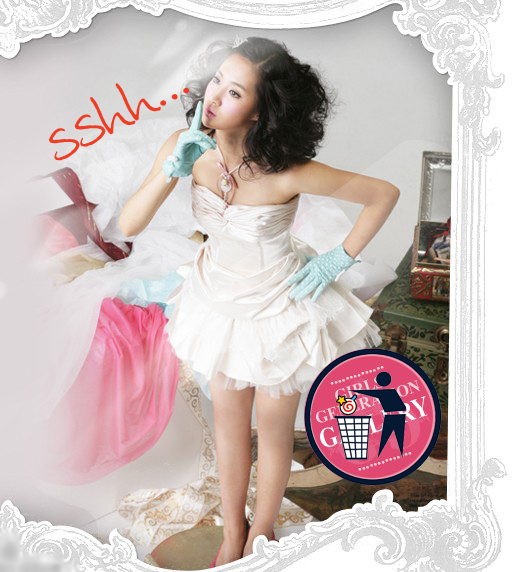 Sorry, Yuri… but you and your fans can't keep us quiet anymore…
---------
Much love goes to my exposé collaborator and wonderful editor:
Bento_box
Last edited by queenbee on Tue 02 Sep 2008, 4:13 pm; edited 2 times in total