LSM seems to have dug deep into his pockets and OTHER people's pockets by having SNSD be one of the nominees in the upcoming MKMF Awards 2008.
Yes folks, you read it right.
MKMF 2008 has listed down SNSD as one of the nominees for
Best Female Group
of 2008 for their song "Kissing
You
Poo".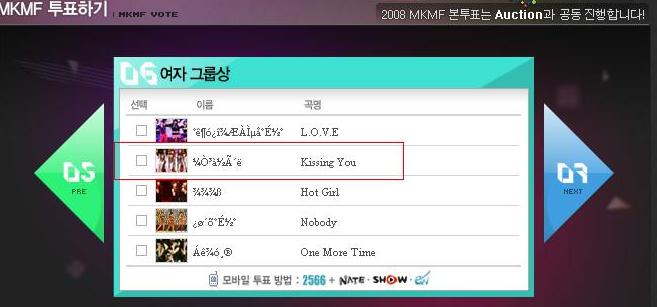 Don't mind the garbled text. I also have no idea why it came out like that ><"
SNSD will be competing against
Brown Eyed Girls'
"L.O.V.E",
SeeYa
's "Hot Girl",
WonderGirls'
"Nobody" and
Jewelry
's "One more time".
Since when did "Kissing Poo" become part of the 2008 music scene? For those who have have no idea when this song was actually released: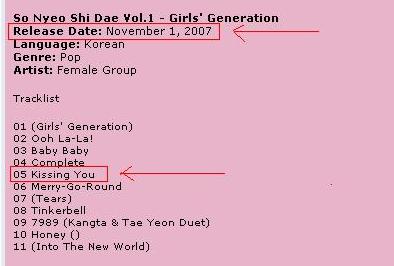 Strange how all the other nominees songs have been part of the 2008 music scene, most recent of which is WonderGirls' "Nobody" (though I am a tad bit confused why they didn't use "So Hot" instead). Very well deserving for everyone else... So you might wonder how come SNSD is part of the list?
Part of the judging criteria states that the artists' record must have been released from October 16, 2007 to October 14, 2008.

LOL-ing at the technicality presented at this. Last 2007 MKMF, the criteria had the dates beginning from November 1, 2006 to October 15, 2007. SNSD failed to win any award then (Wonder Girls won for New Female Group) and even failed at the dance showdown which followed (Hyungman just flapped around like crazy on stage).
And what ever happened to
Kara
's "Rock You"? That song had a good following from Kamilia and non-fans alike. They are more deserving to be up there on the list than SNSD who has seen only ONE song hit the chart (and it didn't even stay up there for too long... lol) in their entire k-pop existence.
Also, Taeyon's "If (Hong Gil Dong)" is also up for nomination as the OST Category going against more talented singers/groups such as
Kim Dong Wook, SG Wannabe
for "운명을 거슬러 (East of Eden)",
Yoo Seung Chan
for "Love you (Mother is Dead Upset)",
Tei
for "꿈의 시간들 (Sik Gae)" and
FT Island
for "한가지 말 (On Air)".
In any case, I am looking forward to MKMF 2008. Not only will we witness the much awaited "DBSK vs. Big Bang" battle for top spot, but we will also get to witness how far SM will go to ensure that his nine plastics be retained in the spotlight. MKMF has always been plagued by scandals of award buying and vote rigging. We'll see how the artists will fare this year ;D
Good luck to all the nominees~ (minus SNSD)
P.S. Taiji is nominated for Best Male Artist
---------
thanks for the heads up,
marmar
Last edited by queenbee on Fri 17 Oct 2008, 4:37 pm; edited 1 time in total